Overview
A Book Group Event Form is a form that is associated with a specific event that can be used to schedule multiple clients for the same event. This is commonly used for classes or large group events. This support article will explain how to setup a Book Group Event Form and how to get that link to your clients.
How to Setup How Many People Can Book the Group Event
The number of clients that can be scheduled for an event is determined by the Calendar Type or Calendar Sub-Type of the event. See the support article How to Create/Edit Calendar Sub-Types for help creating or editing a calendar type. Once you are in the new or edit calendar type window follow the steps below
Click on the Settings tab in the create or edit window

Find the Client Requirements header on the right hand side and click the drop down menu


Select the option that you want to use for this calendar type
Click the Save button

How to Create a Book Group Event Form

Please see the instructions in How to Create/Edit a CloudForm to begin setting up a CloudForm.
Once you have followed those instructions you will be presented with the Sample Forms window.
Click Book Group Event Form button under either the Book Group Event or Book Group Event With Payment header.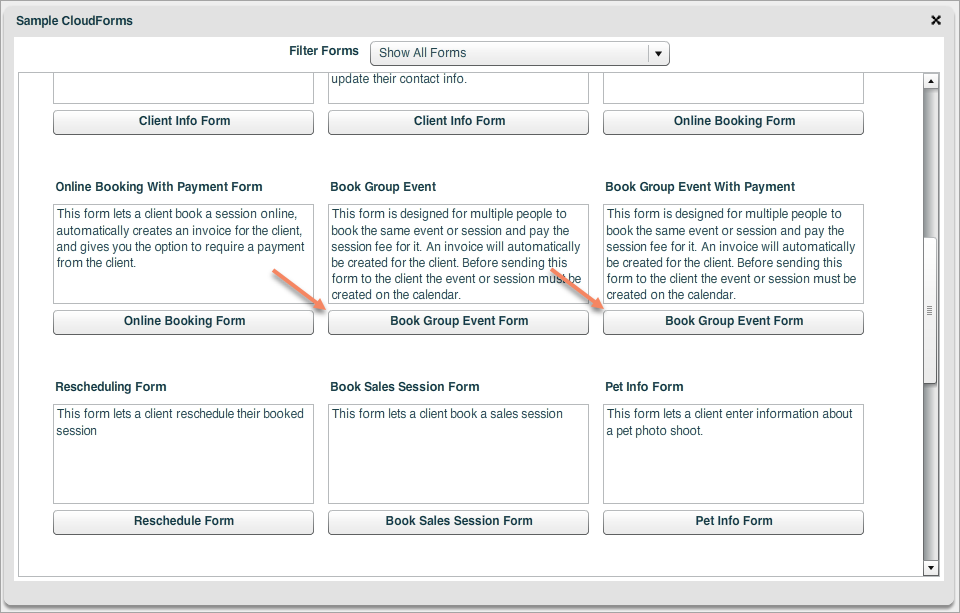 Next you will be presented with a sample form that you can edit as needed.
How to Get The Group Form Link
Edit the Event

Click the Open menu option
Click the Open Group Event In Browser menu option




The link will open in your browser and you can copy and paste the link from your browser
How to Create an Email Template for a Book Group Form Event
Create an email template using the instructions here How to Create/Edit an Email Template

Modify the email template as needed
Click in the email template where you want the link to the form to be and go to the Actions tab
Click the Insert Book Group Event CloudBooking Form button

Find the form you have created and click the Select CloudForm button
Select the options for the link
Click the Save button
How to Send a Link to Clients for the Book Group Event Form
How to Send the Email Template from the Clients Component

Go to the Clients component
Select the Clients tab
Click the All Clients button
Select one or more clients you want to send the email to
Click the Group Operations menu button
Click the Communication Options menu option
Click the Email Selected Clients Personalized Email menu option
In the Send Personalized Email window click the Select Email Template button
Find the email template you created for this form and click the Select button
Find the event you want the form to use in the Select Event window and click the Select Event button
Click the Send Emails button
How to Send the Email Template from the Event
Go to the Calendar component
Select the Calendar tab
Click either the Calendar or Agenda button
Find and edit the event you want the form to be associated with
Click the Email menu button
Click the Email CloudForm menu option
Click the Email Personalized CloudForm menu option
In the Send Personalized Email window click the Select Email Template button
Find the email template you created for this form and click the Select button
Click the Send Emails button