Overview
This link is for those StudioCloud Mac users that are experiencing a slow down when typing on a mac computer.
Steps to Reproduce Issue:
The core issue is the following steps:
1. Open StudioCloud
2. Click on Clients
3. Click on the "New Client" button
4. Start typing into the notes section of the client and the text should appear very slowly one letter at a time.
If you can do the above steps and the text that is being typed into the notes section isn't slow then please email support@studiocloud.com or go to live chat and provide us with details regarding what is not working. Your issue is probably not the slow typing issue that the team is looking into and may be a completely different issue.
Warning: After Updating StudioCloud Do Not Update Using The Popup Window Shown In The Image Below. If you do it will update you to a version that has the slow typing text issue.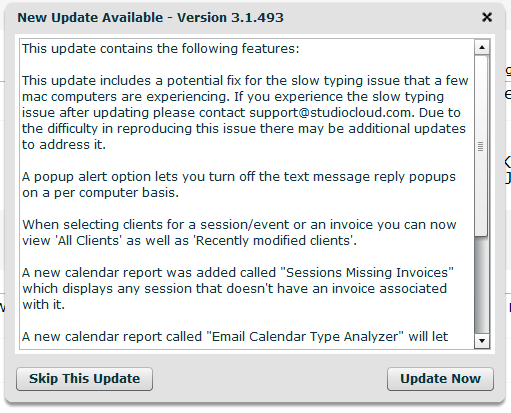 Install StudioCloud version 486 which should resolve the issue
Question: Why isn't this issue resolved?
We have tested this issue across numerous mac systems and have not been able to reproduce it. In fact, a few of the StudioCloud users who are experiencing this issue are experiencing it on one computer and not on any of their other computers. Because we can not reproduce this issue and since there have been hundreds of changes between all the different versions it is very difficult to identify what is causing the issue.
Question: Has this issue been resolved for anyone who was previously experiencing it?
Yes. We have had some clients who updated to the latest version and the issue was resolved while other clients are reporting it isn't. It may be two completely different issues which is making it very difficult to identify and resolve this issue for everyone.
Help Us Fix This Issue
Below are two different versions of StudioCloud that each add in a few features which will help us identify the core issue that is causing this issue.
Step 1: Install this custom StudioCloud 486-Font Issue Test
Click here to install the special StudioCloud version 486-Font
Step 2: Install this custom StudioCloud 486-Icons Issue Test
Click here to install the special StudioCloud version 486-Icons
Step 3: Email support@studiocloud.com
Please email support@studiocloud.com to tell us what happened when you installed each one of the above items.
We will install these updates for you if you want us to do that
If you would like the StudioCloud team to install these updates for you please go to live chat and we will do a screen share to install and test the updates.


------------------------------------------------------------------------------
--- Previous Steps -- Here for historical purposes ---
------------------------------------------------------------------------------
Step 1: Install this custom StudioCloud 486-3907 version
Click here to install the special StudioCloud version 486-3907
Step 2: Install this custom StudioCloud 486-3908 version
Click here to install the special StudioCloud version 486-3908
------------------------------------------------------------------------------
--- Previous Steps -- Here for historical purposes ---


Step 1: Install this custom StudioCloud 484 version
Click here to install the special StudioCloud version 484
Step 2: Install this custom StudioCloud 484B version
Click here to install the special StudioCloud version 484B
Step 3: Install this custom StudioCloud 484C version
Click here to install the special StudioCloud version 484C
Step 4: Install this custom StudioCloud 485 version
Click here to install the special StudioCloud version 485
Step 5: Install this custom StudioCloud 486 version
Click here to install the special StudioCloud 486
Step 6: Install a special StudioCloud 487 version
Click here to install the special StudioCloud 487
Step 7: Install a special StudioCloud 488 version
Click here to install the special StudioCloud 488
------------------------------------------------------------------------------
--- Previous Steps -- Here for historical purposes ---
Step 1: Install this custom StudioCloud 485 version
Click here to install the special StudioCloud version 485
Step 2: Install this custom StudioCloud 486 version
Click here to install the special StudioCloud 486
Step 3: Install a special StudioCloud 493 version
Click here to install the special StudioCloud 493
Step 4: Install a special StudioCloud 491 version